Gone are the days when we used to face issues like "no change man!" or "bro, do you have 50 rupees change?". Paytm has made transactions way more convenient and prompter than ever imagined! But what if we say, that India's largest mobile bill payment app, that is, Paytm, can be utilized to boost your brand awareness and popularity, within a reasonable budget and flawless implementation of your brand's campaign? Yes, it is now achievable with AdZ Basket! Read our blog to know how!
A little bit about Paytm
Paytm (Pay Through Mobile) is an Indian Multinational Technology leading service business headquartered in Noida that offers financial solutions, mobile recharges, movie, travel, and event bookings, utility bill payments, digital payment systems, e-commerce, and full-stack payments to online platforms, customers, offline merchants, and banking investments. Currently available in 11 Indian languages, Paytm offers online services such as in-store payments using the Paytm QR code at fruits and vegetable stores, pharmacies, grocery stores, restaurants, parking, tolls, and educational institutions. According to the company, more than 20 million retailers across India utilize the company's QR code payment system to take payments directly into their bank accounts. The company also uses advertisements and paid promotional content to earn cash.
Why you should go for Paytm in-app advertising?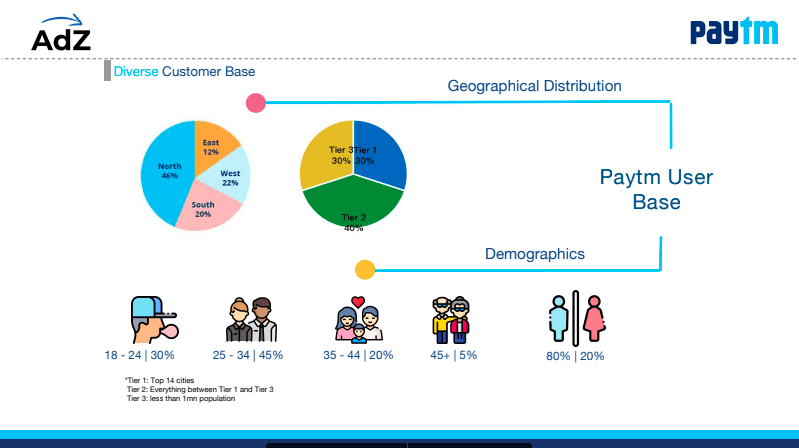 Paytm digital advertising is an impactful way to get your products in front of the buyers and in the same space as your competitors. Paytm is another name for trust. From accomplishing day-to-day financial transactions ranging from utilities, entertainment, mobile commerce, financial investments, and more, Indians trust Paytm for a variety of use cases and reach across Urban and Tier 3/4 towns.
Other Unique Strengths of Paytm:
20MN daily active users
150MN Monthly active users
Largest Network of 20 Mn+ Merchants
90% of transactions on the mobile app.
8-9 mins, average time spent on the app daily
Deterministic data via a unique blend of online + offline purchases of 150 Mn+ MAU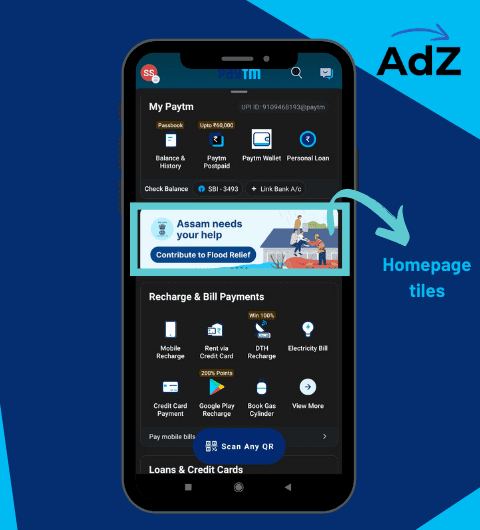 Paytm has got overly high brand awareness across India
It offers several cashback options to its customers.
Paytm's business has improved quickly post demonetization.
Strong marketing drives have helped spread brand awareness.
Word of mouth about ease of use and cashless transactions has been accepted by the people.
Paytm is largely accepted by retailers across India, which has helped the brand to expand and evolve in the Indian market.
And how does it work?
Well, it's easy once you are with us! We'll help you to showcase your brand ads on Paytm, Paytm for Business, Paytm Insider, and Paytm Money. You may choose your preferable shapes and formats along with marketing objectives. You can chat with us on Tawk, e-mail, WhatsApp, or simply call us, to get your query addressed. Or else, just fill out the contact us form on our website and share your prerequisite.
Our team will reach out to you immediately after receiving your requirement. Once the campaign is confirmed from yours, as well as from our side, you'll be assigned with our expert, who will hold your hand throughout your journey with us. And this doesn't end here, post completion of your campaign, we will provide you with a final report of the execution of your ad campaign, that will include CTR, rates, impressions, clicks, and other essential parameters to judge your campaign's reach and performance.
Convinced? We'd love to work with you!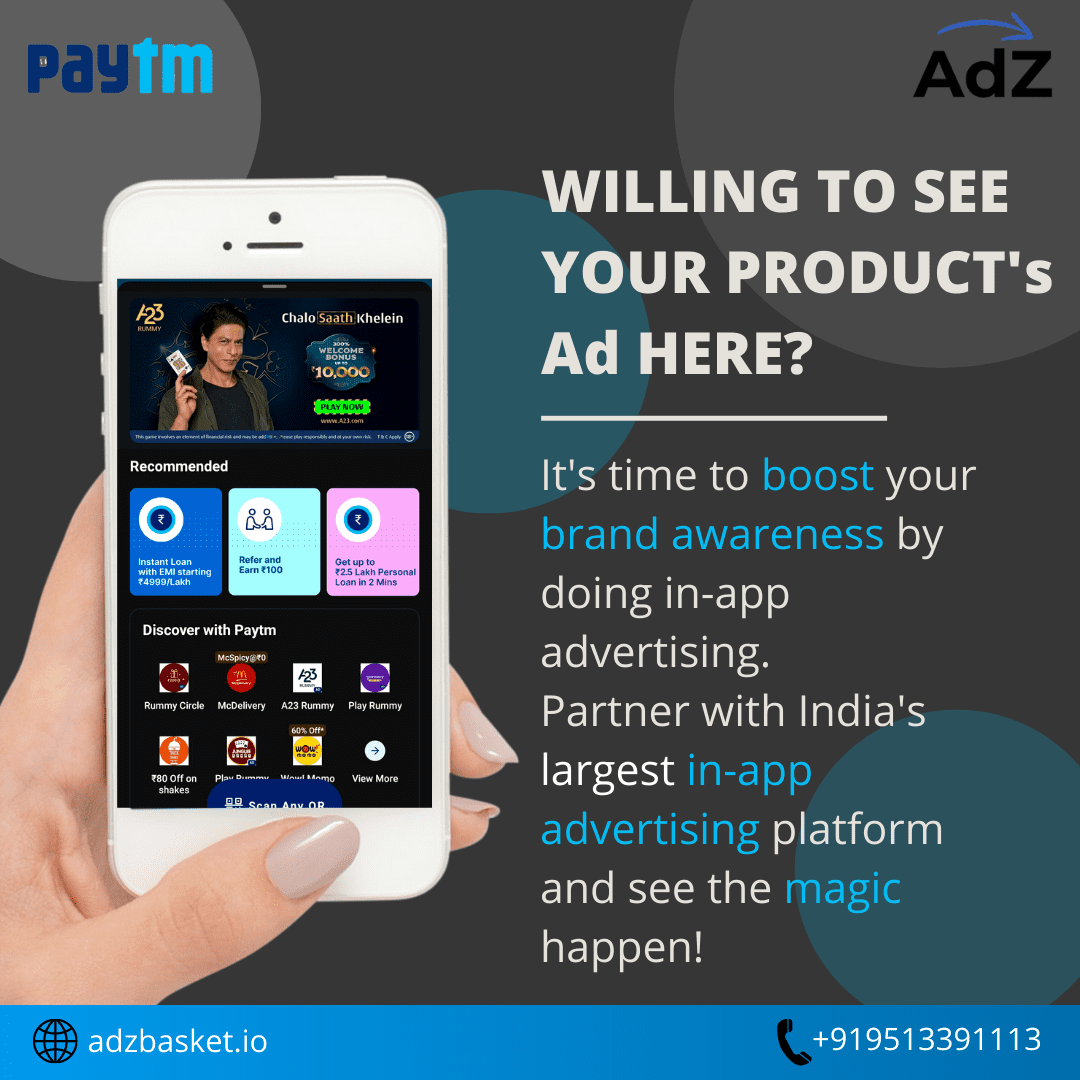 Want to see your brand's ads on the Paytm app but wondering how to make it done? Well, AdZ Basket provides you with an opportunity to place your ads on the Paytm app. We partner with our clients to comprehend the goals they aspire to achieve, to know the why behind their business, and the kind of impact this will have on their business and clients; we translate this into a unique and authentic advertising strategy specific to each platform, like Paytm digital ads. Sounds like a plan?
So, for more details about Paytm in-app advertising and Paytm Advertisement options & prices, please write to us at Hello@adzbasket.io, or in case you want to have a word with our in-house performance team, you may also reach us at +919513391113