Gaana app is the largest commercial online music streaming app and website, with over 150 million monthly active users. It offers songs in 21 Indian languages and provides transliteration in 11 language scripts. Owned by Times Internet, Gaana offers podcasts in 21 languages from the leading Music producers and Publishers, thousands of hours of music tracks, and a collection of 45 million songs across popular genres like Bollywood, International, and Regional music for its user
Gaana Advertising Options:-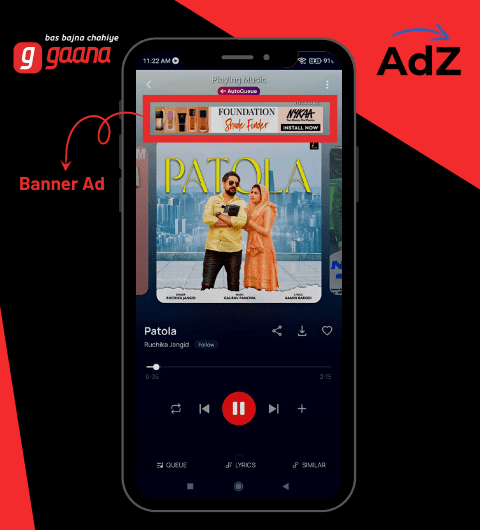 Advertising on the Gaana app is as convenient as listening to music here. This app has done wonders not just for music lovers but also for advertisers too. One can reach millions of people with utmost ease. The app has multiple advertising options and a vast reach that can help one connect with an audience nationwide. And the best part is that the cost of advertising on the Gaana app is also very reasonable and affordable! Let us talk in detail about in-app advertising on the Gaana app.
Banner Ads: Banner ads give one's brand the space to drive installs on their app, visit their website or contact them. They consist of two types, either Ad with images or without images. These ads work based on Cost per thousand impressions (CPM). These Ads can run on two price models; clicks and impressions.
So, you can advertise on the Gaana app through :
Audio Ads
Video Ads
Banner Ads
Audio Ads: Audio ads are one of the most famous ad setups in the Gaana app. So when a song starts, a 20-second skippable after a 5-second audio spot is played with a banner that appears on your screen.
Further, audio ads can be classified into three categories:
Pure audio:

It runs in the background when the user listens to the music while the app is minimized.

Audio with companion banner:

Audio followed by a companion banner, appears simultaneously when the user is on screen.

Audio with follow-up banner:

Audio is heard first, followed by a banner at last.
Video Ads:-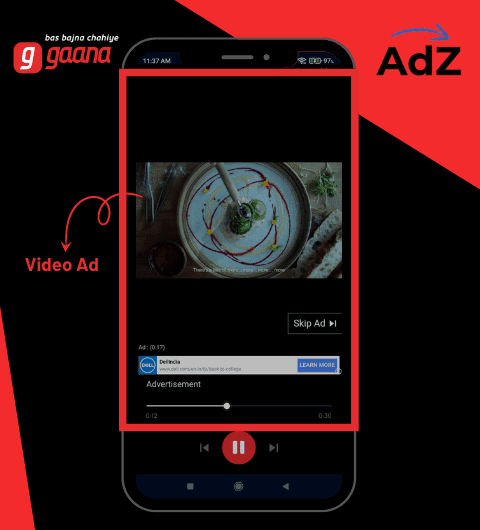 So when you want to create brand awareness through a short message video regarding your product or service, video ads are the best option available for you! Video Ads work on two price models; CPM and Cost Per Completed View (CPCV). Then video ads are further divided into two categories, Bumper ads, and Mid-roll ads.
Bumper Ads: The ads you see before the main program or event starts are known as Bumper ads. They last for 6 seconds.
Mid Rolls Ads: The ads you see during the show or the main program are called Mid Rolls Ads. These Mid-Rolls Ads last for more than 20 seconds. They enable the brand to increase awareness and grow its recall value by advertising videos of its products/services, along with an attached message.
What makes Gaana in-app advertising different?
Gaana is an app that provides a chance to target the right audience through an excellent combination of the advertisement type, target, and presentation. The app allows selecting audience segments based on their understanding of their product or service. Furthermore, the platform also permits one to reach the audience in the language they speak, or one can even select multiple blends of segments to target their audience.
The suite of Targeting options:
The Gaana app offers the option to target audiences so that the correct message can reach the required audience. The targeted audience opportunities are: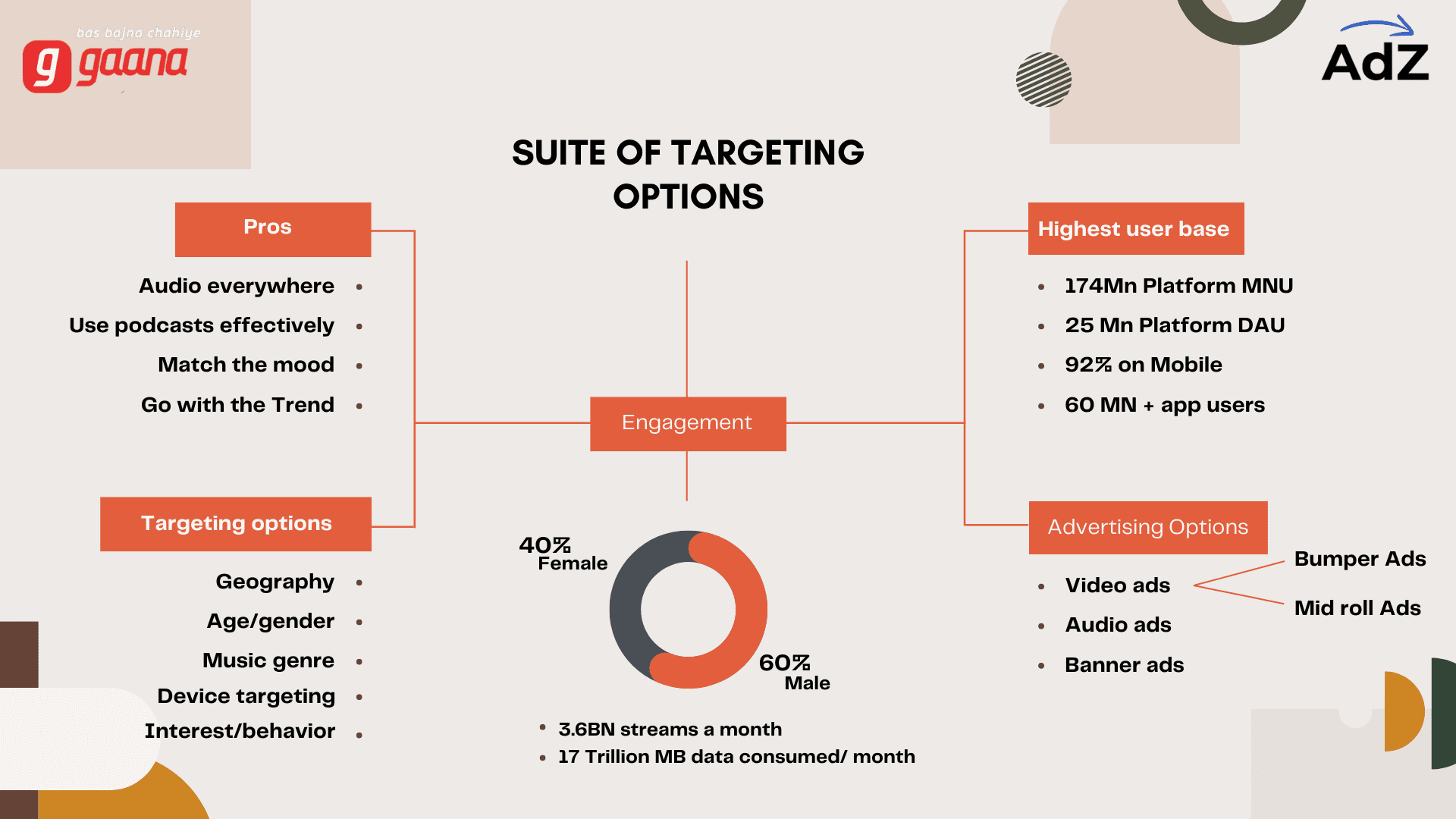 Gender and Age Targeting:Advertisers can easily target the audience as per their gender. The app also allows the advertisers to target the audience based on age group. For example, a grooming brand like Beardo would only find it suitable to target males.

Geo-Targeting: The app offers multiple geographical targeting options. You can efficiently target a specific state or city as per the relevance of your advertisement message.

Interest Targeting : These customized targeting options are based on the type of content the user interacts with. Interest targeting can have various audience sections such as business, hobbies, fashion, shopping, travel, food, fitness, trends, etc.

Genre Targeting : The ads can be placed by the advertisers in genres such as classical, contemporary, sad, romantic, Hollywood hits, Sufi collections, and others through Genre targeting.

Device Targeting: Device targeting offers a range of options ranging from the type of the device to the brand of the phone/device and the cost of the device.
Give us a chance to serve you!
Wondering how to promote your brand through Paytm digital ads? Don't worry, we are here to help you. All you need to do is write us at Hello@adzbasket.io or call us at +919513391113.